Earlier this month in Springfield was the third reading deadline for legislation. At this time in the House of Representatives, many bills were presented for debate and a vote. It made for lengthy session days on the House Floor. Here is a re-cap of some of the important legislative updates from this week, as well as some upcoming events I am hosting in the district that you should add to your calendar!
Democrats Advance Tax Hike in State Senate
Language to amend the state Constitution and enable a $3.4-billion tax hike on middle-income families and businesses was approved by Democratic State Senators in a committee hearing on Wednesday, April 10. SJRCA 1 will allow the State to levy graduated income taxes on all income levels within Illinois. The graduated income tax constitutional amendment has been moved to the Order of 3rd Reading before a full vote by the Illinois Senate.
I have stood with my colleagues in continuous opposition to this tax hike, and share more of my remarks on this here. I will also be hosting an informational town hall on this issue and would encourage you to attend to learn more about how this tax will affect you, your family or your business. You can find more details on this event in the Upcoming Events section below.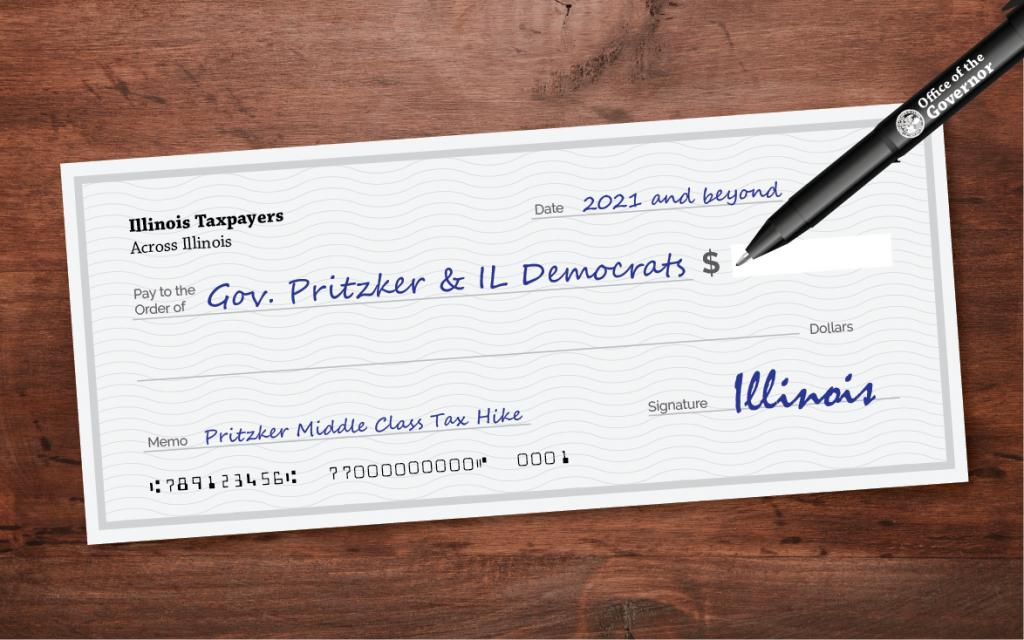 Renewed Push for Scott's Law Awareness
Scott's Law, the Illinois state law named in honor of a fallen first responder that requires motorists to move over when they see a parked first-responder vehicle, is getting more support from law enforcement and highway officers all over Illinois. Scott's Law specifies first-responder vehicles that are displaying flashing lights of any color – red, blue, amber, or yellow. When they see the flashing lights, drivers are legally required to proceed with due caution, reduce the speed of their vehicle, maintain a safe speed for road conditions, and – of special importance – make a lane change, if possible, into a lane not adjacent to the parked first-responder vehicle. If the driver cannot safely change lanes because of other traffic, the driver must pass the first-responder vehicle very slowly.
Sixteen state troopers have been hit along Illinois roads so far this year, which is double the total of eight troopers struck in all of 2018. Due to this unprecedented number—two of which resulted in fatalities, it is imperative that we exercise caution and remember to slow down and move over when there are vehicles on the side of the road.
In addition, the Illinois Sheriff's Association has a public awareness campaign aimed at better enforcement of Scott's Law.
REAL ID
Illinois will now be issuing "REAL ID's" in accordance with federal guidelines, which are aimed at making identification cards more secure after 9/11. There is no need to rush in obtaining one as your current ID is valid through October of 2020 for flying domestically and entering federal buildings. After that time, the new REAL ID is needed, or a passport can be used in place of the REAL ID after that date.
A number of documents will be necessary in order to obtain a REAL ID. It is important to make sure that you have all the necessary documentation ahead of the deadline. Here is a helpful checklist you can use to make sure you are prepared!
The Illinois Secretary of State's office began issuing cards that comply with the federal REAL ID Act in January, and they are now available at all 138 driver services facilities statewide.
Internship Program Available
I am asking that area high school or college students, with an interest in state government, apply to be an intern in my District Office in St. Charles, located at 2325 Dean Street, Suite 800. The internship program will run from June to August, and interns will be expected to work a minimum of 5-10 hours per week to receive compensation.
I am eager to involve young students in the legislative process and give them the opportunity to see firsthand the workings of a legislative office. Internship duties include assisting with constituent services, researching legislation, participating in local community outreach events, and more. The summer months will be filled with outreach activities and constituent events, and it is a great time to get students involved in the great things we have going in the 65th District community.
All interested candidates are asked to contact the office by phone: 630-797-5530 or email: ugaste@ilhousegop.org by Monday, May 13th.
Upcoming Events:
Meet & Greet Event
I am hosting a Meet and Greet Event at Ella Johnson Memorial Public Library District in Hampshire, 109 S. State St, on April 26th from 10:00am-12:00pm. The event is free and open to the public.
If you are a local resident, I encourage you to stop by and learn about all the resources and information my District Office offers. I am looking forward to meeting Hampshire residents and having great conversations with my constituents!
If you have any questions about the event, contact the District Office at 630-797-5530.
Town Hall Events on Graduated Income Tax
I am hosting a town hall meeting on Governor JB Pritzker's graduated income tax proposal with a group of north-suburban lawmakers. Together, we are coming together to have a dialogue about the proposal, which seeks to permanently remove the flat income tax guarantee from the Illinois Constitution.
The event will take place on April 27 from 11:00 AM – 12:30 PM at the Lake in the Hills Village Hall, 600 Harvest Gate, in Lake in the Hills. I will be joined at the event by State Representatives Steve Reick (R-McHenry County), Allen Skillicorn (R-McHenry/Kane County), and Tom Weber (R-McHenry/Lake County).
Representatives of Americans for Prosperity, a not-for-profit organization that studies Illinois' most pressing issues, will join us at the meeting. An informational presentation will be followed by a question & answer session.
The event is free and open to the public. Come and learn more about this tax hike proposal, and get your questions answered!
As always, if you have any questions about state issues or upcoming events, contact me at my district office at 630-797-5530, or by email at ugaste@ilhousegop.org.
Sincerely,
Dan Ugaste