FIRST RESPONDERS
Illinois House pays tribute to fallen Chicago police officer Andres Vasquez-Lasso.  Slain in the line of duty, Officer Andres Vasquez-Lasso was a five-year veteran of the Chicago Police Department. Responding to a report that a woman was being chased down the street by a man with a gun on Chicago's southwest side, Officer Vasquez-Lasso exchanged fire with the suspect at close range. Officer Vasquez-Lasso was shot multiple times and later died at Mt. Sinai Hospital. The 18-year-old suspect was shot in his head and is in critical condition. Officer Vasquez-Lasso's family and fellow officers honored his heroism and mourned his death. End of Watch: March 1, 2023.   
On Thursday, March 2, the Illinois House of Representatives heard tributes to the fallen officer and paused for a moment of silence to pay tribute to Vasquez-Lasso. In these tributes, House members honored the service performed by Officer Vasquez-Lasso and by his fellow police officers throughout Illinois. The fallen officer's name will be memorialized as part of the Illinois Police Memorial, which stands on the grounds of the Illinois State Capitol.
The death of Officer Andres Vasquez-Lasso added fuel to the ongoing discussion about the status of persons who have been arrested, including arrests for violent felony offenses, and are awaiting trial in Illinois. Often, under Illinois criminal law, these trials face long delays, leading to people awaiting trial for extended periods of time. The suspect in the Vasquez-Lasso murder case is a man who was under criminal charge awaiting trial and had been released on a bond of individual recognizance (the so-called I-bond). The suspect's arrest took place on July 29, 2022, and he had been on the streets following his arrest for seven months while awaiting adjudication of his offense. The suspect allegedly shot and killed Vasquez-Lasso at near-point-blank range during this period. Cook County State's Attorney Kim Foxx defended the decision to give the suspect an I-bond, stating that prior to his July 2022 arrest the defendant had not had a criminal record.
BUDGET
McCombie Stands in Support of Comptroller's Budget Stabilization Proposal.  House Minority Leader Tony McCombie stood in support of Illinois Comptroller Susanna Mendoza's budget stabilization legislation last week. McCombie has signed onto the bill, HB 2515, as a chief co-sponsor and showed her support in person Thursday when the bill was presented in the State Government Administration Committee.
"I am proud to support Comptroller Mendoza's legislation that could improve the financial outlook of our state. Illinois families need more measures like this proposal, which drives excess revenue into our rainy day fund and pays down our pension debt," said House Minority Leader Tony McCombie.
Possible nationwide recession could hamper State spending plans.  In testimony presented to the House Revenue and Finance Committee, Revenue Director David Harris and Alexis Sturm, Director of the Governor's Office of Management and Budget (GOMB), presented testimony on the possible impact of a Year 2023 recession on the Illinois economic outlook and State revenues available for spending. 
Working with ongoing cash flow numbers that reflect tax payments made by Illinois residents to the Department of Revenue, both executives – backed by Department of Revenue chief economist Rubina Hafeez – said that the State of Illinois' immediate financial position is good. However, their testimony included data on current projections by global economic forecasters. These forecasting groups continue to project that the U.S. economy is deemed likely to fall into a mild recession in calendar year 2023. This projected recession, if it occurs, will have a negative impact on State revenues and plans for more State spending, including multi-billion-dollar spending requests from the supermajority Democrats.
Speaking at the Revenue Committee hearing, House Republicans pointed out that Illinois' overall record of economic underperformance relative to other U.S. states means that any possible recession could hit Illinois much harder than other regions of the country. Gov. Pritzker's Office of Management and Budget has not yet plugged Illinois' underperformance into its economic numbers and forecasts. The Illinois economic testimony was presented to the House Revenue Committee on Thursday, March 2.
Month-by-month picture continues to show healthy revenues.  The Commission on Government Forecasting and Accountability (CGFA), the nonpartisan fiscal watchdog office within the Illinois General Assembly, continued to track healthy State tax revenue inflows in February 2023. Personal income tax payments, corporate income tax payments, and sales tax payments to State general funds rose $380 million in February 2023 over the year-earlier figure. Non-general funds revenue streams earmarked for spending other than operations, such as sports betting tax payments earmarked for the Capital Projects Fund, also increased.
The CGFA economic team warned that growing volatility in the cash flow pictures of Illinois consumers, and the State of Illinois, could make these February 2023 cash flow trends unreliable as a guide to future outcomes. Starting with the outbreak of the COVID-19 pandemic in March 2020, economic numbers in both Illinois and the U.S. as a whole have changed faster, creating greater ranges of uncertainty, than had been the case prior to the pandemic outbreak, shutdown orders, and economic crash. The CGFA revenue report for February 2023 was published on Thursday, March 2.
CRIMINAL LAW
House Republican push themes heard in court as case against "no cash bail" law moves toward state Supreme Court.  Current state law continues to allow the circuit court to impose cash bail requirements on individuals awaiting trial, but statutory language in the controversial SAFE-T Act passed by Illinois Democrats could soon end this longtime practice. Ending cash bail would require the courts and the prosecution teams to collaborate to let most criminal suspects go free while awaiting trial. 
In a public order issued in relation to a lawsuit that consolidates cases brought by 64 Illinois county state's attorneys, the state Supreme Court has put a hold on the cash-bail repeal law. The state's attorneys, speaking for themselves and their teams of prosecution law enforcers, are setting forth grounds for the controversial law's unconstitutionality. Their arguments continue the themes first set forth by House Republicans when the cash-bail language appeared in a late-night lame-duck session of the Illinois General Assembly. The Illinois Supreme Court is reading these arguments. The high court is also reading a counter-brief, in support of the law, filed by the state Attorney General, a Democrat. Legal observers expect a decision on the "no cash bail" case later this year.
JOBS
Stellantis shuts down Belvidere assembly plant; more than 1,200 layoffs.  Traditionally used to assemble liquid-fueled vehicles, until February 28 the complex produced vehicles in the Jeep Cherokee line of products. Built by Chrysler in 1965, the Belvidere plant has been a backbone of U.S. motor vehicle production for more than half a century. With access to Interstate 90 and the Union Pacific railroad, the Belvidere plant was well situated to bring in parts and components from all over North America to be assembled into finished motor vehicles. The Belvidere plant has made both cars and light trucks. Owners have refitted the complex several times, most recently in 2010-2011. 
More than 1,200 workers had jobs at the Belvidere plant when the shutdown was announced. Owner Stellantis did not make public any future plans for the complex; as a mothballed plant, it would be locked up and placed under security guardianship. Following the mothball announcement, only two motor vehicle assembly plants remained in operation in Illinois – the Ford Motor Company plant in Chicago, and the Rivian assembly plant in Bloomington-Normal.
Stellantis, an international motor vehicle assembler, is headquartered in Amsterdam, Netherlands. It is a holding company that includes nameplates sold as Chrysler, Dodge, Jeep, Fiat, Peugeot, Citroën, Opel, and other brands. The Stellantis Belvidere shutdown began on Wednesday, March 1.
TRANSPORTATION
Amtrak Chicago-Quad Cities train service still stalled.  Enthusiasts have called for decades for the resumption of passenger train service from Chicago to the Illinois-Iowa Quad Cities region. On the current planning map, the route could use an existing train line, the Chicago-to-Quincy BNSF route, for more than two-thirds of its 160-mile line. The Chicago-Quad Cities route, including a necessary track connection near Wyanet, Illinois, has been an official plan of the Illinois Department of Transportation since 2012. 
Many promises have been made that passenger train service will be restored in Moline-Rock Island, Illinois, which has not had passenger train services since 1978. However, the Quad City Times revealed last week that there is no prospect for a train run any time soon. The Iowa Interstate Railroad (IAIS), a railroad that would own the host right-of-way from Wyanet to Moline, has not yet come to an agreement with IDOT on final terms for operating and paying for the trackage that the line would use.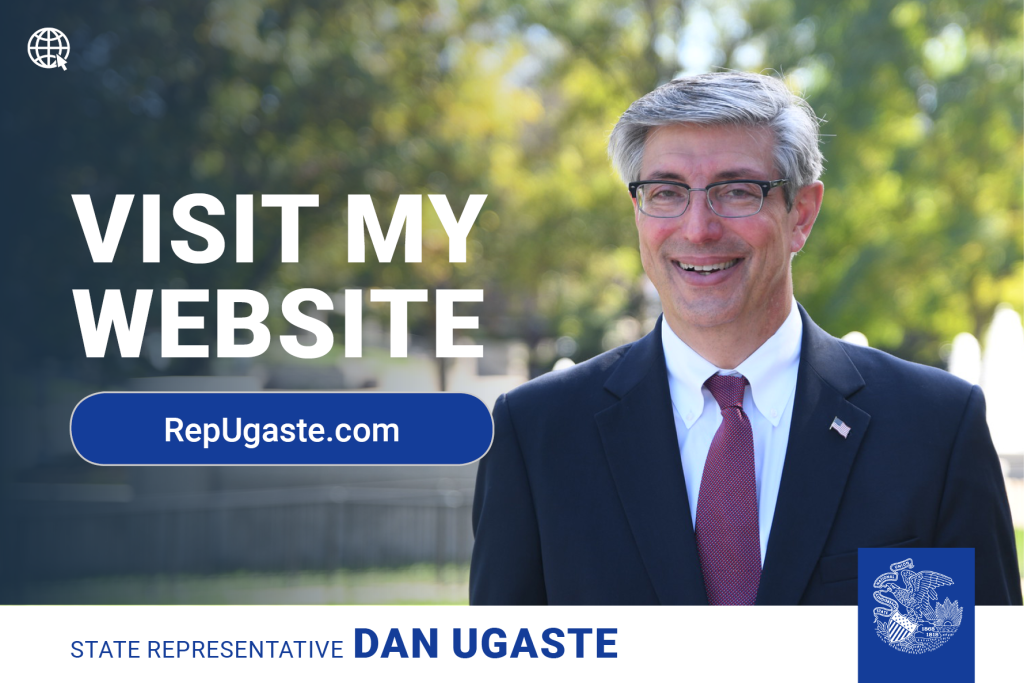 STAY CONNECTED
Were you forwarded this message? Sign up for my e-newsletter updates by visiting my website here. You can also stay updated on what I'm working on in Springfield and in the 65th District by following me on Facebook here.