Kaiser (pictured above)
German Shepherd: Kaiser was one of 4,000 dogs who served in the Vietnam War, and his handler was Marine Lance Corporal Alfredo Salazar. They did over 30 combat patrols and participated in 12 major operations. In 1966, they were ambushed by the Viet Cong while on patrol after they joined "D" company for a search-and-destroy mission. Kaiser was hit and died in the initial contact while trying to lick Salazar's hand. Kaiser was the first war dog killed in action in Vietnam.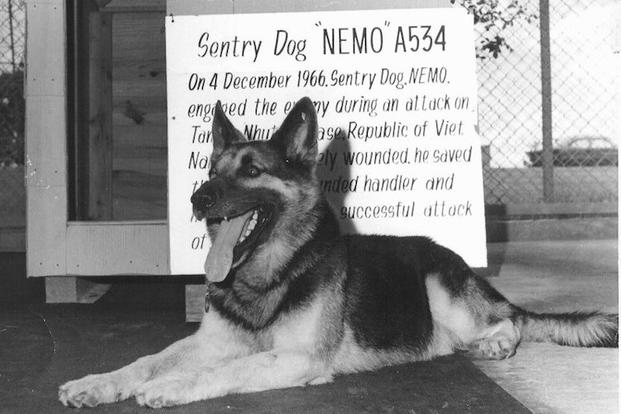 Nemo
In December 1966, Nemo and Airman 2nd Class Bob Throneburg were on patrol in Vietnam near an airbase. They then came under concentrated enemy fire and Nemo took a round to his eye. Throneburg was shot in the shoulder after he killed two Viet Cong guerillas. Nemo jumped viciously at the enemy, which gave Throneburg time to call reinforcements. After Throneburg was unconscious, Nemo crawled on top of him to protect him and would not let anyone touch him. A veterinarian had to sedate him so medics could attend to Throneburg. Both Throneburg and Nemo survived. Nemo died in 1972.