BUDGET
CGFA updates revenue estimate for FY23, provides forecast for FY24.  The Commission on Government Forecasting and Accountability (CGFA), the nonpartisan budget watchdog arm of the Illinois General Assembly, released last week its Economic Forecast for FY24. In sharing this forecast with the House Revenue Committee, the Commission also updated its FY23 Revenue Estimate, the estimate covering the now-more-than-half-completed fiscal year ending June 30, 2023. Although numbers are still coming on for FY23, the State now has an improved picture of how the revenues for this year are likely to end up. 
CGFA now estimates that FY23 revenues will total $51.9 billion, which is a $575 million increase over CGFA's previous FY23 estimate and a $545 million increase over the Governor's FY23 estimate published in February. The increase in base FY23 revenue assumptions by CGFA led to a higher FY24 revenue estimate compared to the numbers from the Governor's Office of Management and Budget (GOMB), with FY24 expected to bring in $50.4 billion in revenue – a $465 million increase over the FY24 estimate projected by GOMB.
In a CGFA Report section entitled "The Economy," CGFA analysts pointed to gathering uncertainties on the U.S. and Illinois economic horizon that make this healthy picture highly uncertain as the State looks forward to FY24, the fiscal year that begins on July 1, 2023.
Ongoing economic contractions in many U.S. economic sectors, continuing inflation, sharply rising interest rates, and a significant decline in the Purchasing Managers Index (PMI) variable used as a gauge of the health of the U.S. manufacturing sector, all combine to signal potential troubles ahead. Overall throughout the U.S., real GDP is expected to grow only 0.7% in 2023 and only 1.1% in 2024, numbers that reflect a significant possibility that a brief, shallow recession may occur during several of the economic quarters in this two-year period.
ETHICS REFORM
House Republicans renew call for ethics reform to combat corruption.  Illinois House Republicans are demanding more ethics reforms on the one-year anniversary of former House Speaker Mike Madigan's indictment on federal corruption charges.
"Ethics and corruption are one of the top priorities of the House Republican Caucus and one of the things that needs to change in the most dramatic way in the state of Illinois," said Rep. Ryan Spain (R-Peoria). […]
The caucus argues that Illinois lags behind other states in enacting meaningful legislation to eliminate conflicts of interest and empower the Legislative Inspector General. Republicans told reporters Thursday that lawmakers need to choose between personal profit and public service.
Rep. Blaine Wilhour (R-Effingham) said he feels the revolving door between lawmakers and lobbyists is a joke, even though state lawmakers approved a one-year window for the revolving door last year.
"We need nothing less than the strongest anti-corruption safeguards in the country to start to restore some much-needed credibility here and to ensure that corrupt politicians like Mike Madigan never get the kind of power over the citizens that they've had in this state ever again," Wilhour said.
HUMAN SERVICES
Southern Illinois lawmakers react to Governor's proposal to repurpose Choate Mental Health and Developmental Center.  State Representatives Paul Jacobs and Charlie Meier have been the lead House Republican members working to identify and correct ongoing problems at Choate Mental Health and Developmental Center with the goal of keeping the facility open to serve residents living with severe intellectual and developmental disabilities.
In late February, the representatives joined State Senators Dale Fowler, Terri Bryant, and Jil Tracy for a capitol news conference to demand immediate public hearings into abuses of residents of Choate Mental Health and Developmental Center in Anna, Illinois. Choate is located within the boundaries of Rep. Jacobs' 118th legislative district.
"My colleagues and I in the House and Senate Republican caucuses sounded the alarm on Choate, and we demanded hearings into the abuse and neglect that was laid out in very disturbing media reports. We are still demanding that those hearings take place," Jacobs said. "There's no reason they shouldn't. The House and Senate must act in their role as appropriate legislative oversight bodies to put on the record what happened at Choate and to allow families and loved ones and employees of Choate to testify. I'm not going to stop demanding these hearings take place as soon as possible."
The abuses that were detailed in a February 10th, 2023 ProPublica report showed an unacceptable pattern of abuse, neglect, cover-up, and intimidation of whistleblowers over a decade-long period that resulted in more than 1,500 complaints to the Office of the Inspector General overseeing the Illinois Department of Human Services.
Since that time, Rep. Jacobs joined Senator Bryant (GOP Ranking Member of the Senate Mental and Behavioral Health Committee) in distributing a letter to all members of the House and Senate that provides an update on the "good things" that are happening at Choate. The letter was accompanied by another letter that was penned by the President of "Friends of Choate", Rita Burke. Friends of Choate is the parents and family advocacy group that works on behalf of the best interests of the residents of Choate.
"The fear that Friends of Choate had was that despite some very positive improvements that are underway at the facility, the Governor was just going to close it down and send the residents hundreds of miles away anyway," Jacobs said. "This is these residents' home. Their families are close by in many instances. The alternative to today's transformation announcement was permanent closure. I am cautiously optimistic that this transformation plan will meet the very real and urgent needs of the residents of Choate. For now, we will trust, but we will continuously verify," Jacobs said.
On Wednesday, Governor JB Pritzker held a news conference at Southern Illinois University's School of Medicine to announce that Choate Mental Health and Developmental Center will undergo a three-year transformation that will effectively repurpose Choate while implementing new safety enhancements and expand support for families and the residents living there.
The Department of Human Services announced Wednesday it will partner with SIU's School of Medicine to shape Choate's transformation.
"Our goal was to keep Choate open and make it a safer place for the residents being cared for there," Jacobs said. "The Governor had previously threatened to shutter the facility, and that would have been devastating on many levels for the residents, their families, and the community of Anna. I am encouraged that SIU's School of Medicine will have a role in keeping Choate open and making it the best mental health facility that it can be. I am greatly concerned for the residents that will be moved from Choate to other facilities. I am greatly concerned for their families as well. It remains to be seen if this transformation plan will accomplish its stated goal. I will continue to hold this administration accountable for the promises that they have made to invest in building and grounds improvements, implement new safety measures, and provide direct support for residents and their families while this transformation takes place."
Rep. Meier says he is encouraged to see some of his recommendations being implemented at Choate, but cautions against the mass movement of residents into Community Integrated Living Arrangements (CILAs).
"Less than two weeks ago, we rolled out a plan to protect the residents at Choate and improve their home. Today, DHS affirmed they agree with us on making sorely-needed improvements. We are here to fight for our most vulnerable population under state care and to make sure they are safe and healthy. We will continue to provide oversight during this transition and will not turn our back on our developmentally disabled residents that call Choate their home," Meier said.
"Today is a positive step, but the job is not done yet. I want to ensure both Community Integrated Living Arrangements (CILAs) and State Operated Developmental Centers (SODCs) are safe for all residents and want assurances that residents are only relocated to a new CILA or SODC if approved by their parent or legal guardian. We want residents to live as close to their loved ones as possible."
JOBS
Preliminary numbers say Illinois' unemployment rate was 4.5% in January 2023.  Illinois' 4.5% unemployment rate, while it marked a 0.1% decline from the comparable rate in December 2022, was 1.1% higher than the nationwide 3.4% unemployment rate for the same month.
The preliminary Illinois January 2023 numbers, which are subject to revision as more data comes in, show continued job growth in the government and hospitality sectors of the economy. Of the net 14,300 new jobs created in Illinois during the month, 7,900 were created in government, and 6,300 were created in leisure and hospitality (including hotels and restaurants). Service sectors lost ground in Illinois in January 2023. Monthly payroll declines were notched in information science (down 900 jobs) and the separate fields of professional and business services (down 900 jobs).
PUBLIC SAFETY
McCombie Files Public Safety Legislative Package.  House Minority Leader Tony McCombie has filed several bills in a robust legislative package aimed at improving public safety and reducing crime throughout Illinois. McCombie's initiative will address public safety by focusing on the rising fentanyl epidemic, gun violence, and the systemic issues of the SAFE-T Act. The five bills include the following:
HB1466 – Allows qualified retired law enforcement officers to receive school resource officer training from the Illinois Law Enforcement Training Standards Board, so they can be employed at schools. 
HB3203 – Allows pharmacists to sell fentanyl test strips over-the-counter so the public can test for the presence of fentanyl.
HB3210 – Elevates the criminal charges against a person knowingly and unlawfully selling or dispensing any scheduled drug containing a detectable amount of fentanyl. 
HB3209 – The Protect our Victims Act, prevents the defense from compelling a complaining witness to testify during a hearing to deny the defendant pretrial release.
HB3214 – Requires the Cook County State's Attorney to file a written statement with the court if a plea deal is accepted from a defendant who is charged with an offense involving the illegal use or possession of a firearm.
"This package of bills is about making our neighborhoods safer, and looking at how we can best do that by addressing the underlining issues like the opioid epidemic, gun violence, and the ongoing implications of the faulted SAFE-T Act," continued McCombie. "These are real issues affecting our communities every day, and it's important that these bills advance so we work toward building safer communities across Illinois."
Since its adoption back in 2021, the SAFE-T Act has been amended four different times and is still facing uncertainty due to impending lawsuits against its constitutionality and questions of implementation at the local level. McCombie's legislation, HB3209, is an initiative to protect victims of crime—who have been against the odds of the new law.
"We have seen victims' rights be sidelined through the SAFE-T Act and it's something that needs to be rectified if we are truly going to make our neighborhoods safer; it means we stop empowering criminals," continued McCombie.
The legislation coincides with the Republican-led working group prioritizing public safety issues that go well beyond the SAFE-T Act. State Representative Patrick Windhorst has taken the lead on the Improving Public Safety working group, which is navigating how to further address the rising crime rates in Illinois neighborhoods.
"Policies passed in Springfield have had detrimental effects on safety across our state—and this reality is hitting families in every community on a daily basis," said Rep. Windhorst. "Leader McCombie's legislation is a step forward to fixing that discrepancy and I'm proud to support that measure."
McCombie's bills have been filed in the Illinois House and can be tracked here as they move through the legislative process in the coming weeks.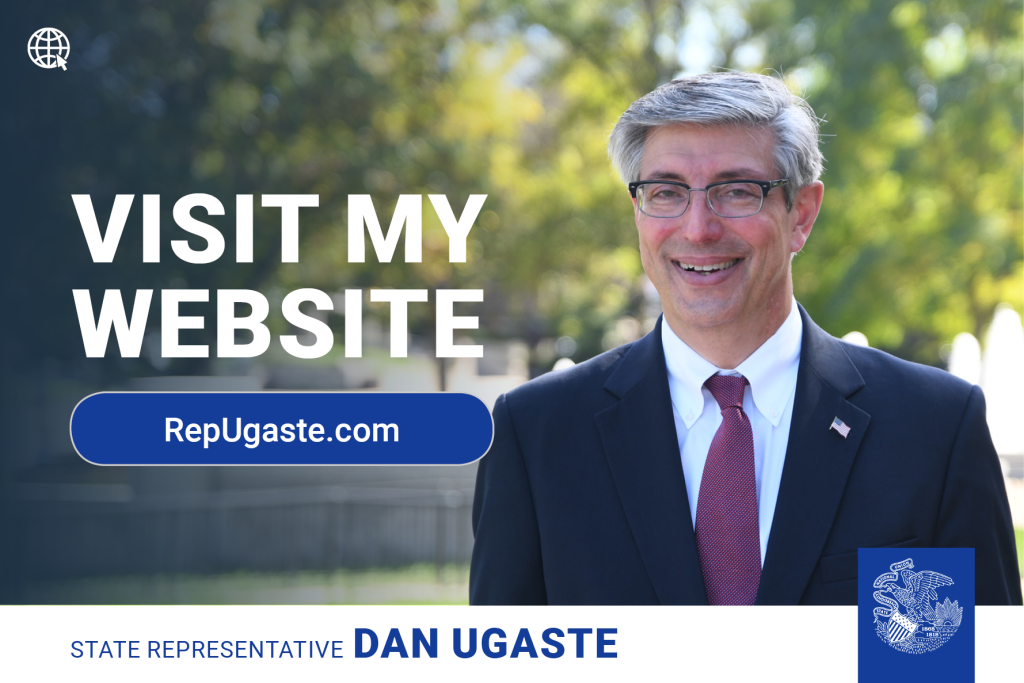 STAY CONNECTED
Were you forwarded this message? Sign up for my e-newsletter updates by visiting my website here. You can also stay updated on what I'm working on in Springfield and in the 65th District by following me on Facebook here.