CORRUPTION
Guilty verdict on all counts in bribery trial tied to ex-Speaker Madigan. A federal jury on Tuesday convicted three ex-lobbyists and a former CEO for their involvement in an alleged bribery scheme aimed at longtime Illinois House Speaker Michael Madigan. Anne Pramaggiore, Mike McClain, Jay Doherty, and John Hooker were each found guilty of six counts.
The six-week trial was borne of a wide-ranging federal corruption probe that has rocked Illinois politics and ultimately unseated Madigan, who had been the longest-serving legislative leader in the nation. The former speaker faces related criminal racketeering charges in his own trial, set for next April. […]
Tuesday's verdict could bolster prosecutors' case against Madigan, who, in the course of the trial, was revealed as the initial target of the feds' investigation which opened in late 2014.
Since then, the probe has grown to encompass more than a dozen high-profile players in the state's political ecosystem.
The jury deliberated for approximately 27 hours since getting the case last Tuesday afternoon. A sentencing date was not set before court adjourned.
Speaking to reporters after the verdict, jury member Amanda Schnitker Sayers said the jury grew to like the defendants over the course of the trial.
"All in all, they're good people that made bad decisions," she said.
Schnitker Sayers said the jury stayed away from discussing Madigan outside of his role in the case at hand, but said they came to believe the speaker's involvement "was key."
"He really did cause this all to happen," she said. "If it wouldn't have been for him, these people would not have been in the position that they would need to commit crimes in the first place."
Illinois House Republicans demand ethics reform following guilty verdict. Illinois House Republicans renewed calls for ethics reform less than an hour after four of former House Speaker Mike Madigan's closest allies were found guilty of corruption.
The House GOP caucus leaders told reporters Tuesday night that the Springfield system has allowed bad actors and political insiders to succeed at the expense of honest hardworking Illinoisans.
House Republican Leader Tony McCombie (R-Savanna) stressed that every state lawmaker should be compelled to work with her caucus to pass accountability measures.
The GOP members said ethics reform should be the General Assembly's top priority.
"How many indictments is too many? How many more court rulings do we need to make unethical behavior stop," McCombie asked. "We will always be ready to work, put ideas forward, and fight for what's right."
The Republican leadership team said lawmakers should pass bills to halt the revolving door for legislators becoming lobbyists and end "pay to play politics."
Rep. Patrick Windhorst (R-Metropolis) said the Legislative Inspector General should also be given subpoena powers to help the office perform thorough investigations and root out bad behavior. […]
"Illinois' reputation for public corruption is sadly well-earned," Windhorst said. "But our state's reputation is not beyond saving. It can be rebuilt. Let us delay no longer." […]
Windhorst and Rep. Ryan Spain (R-Peoria) serve on the House Ethics & Elections Committee. However, both men noted that the group has not taken a single vote or held subject matter hearings about ethics reform.
"Today should be a wake up call," Windhorst said. "It should start immediately."
The House Ethics & Elections Committee is not scheduled to meet this week.
"This is embarrassing. For too long, we have allowed the poor ethical behavior of people like Mike Madigan, his associates, and others to become the way we do business in the state of Illinois," Spain said. "Unfortunately, the Madigan way is still the way in which our government works here in Springfield. It has to stop now."
Rep. Ryan Spain calls out Speaker Chris Welch for Madigan obstruction. In 2020, House Republican Representatives Ryan Spain, Jim Durkin, and Andrew Chesney launched a special investigation committee to examine then-Speaker Michael Madigan's involvement in the bribery scandal. Rep. Emanuel "Chris" Welch, who served as chairman, called the process a sham and chose to abruptly end the investigation after hearing from just one witness. Welch now serves as Speaker of the House and was supported in this effort by Rep. Lisa Hernandez, who now serves as Chair of the Democratic Party of Illinois.
"We convened and launched an important investigation with substantive work asking for follow-up and investigation into these matters we've heard about in detail in the prosecution and now the guilty verdicts which have been delivered this week," said Rep. Ryan Spain. "What was the response from the Democratic legislators that participated in that Investigating Committee? Cover-up and sweeping the facts under the rug."
"For too long, we have allowed the poor ethical behavior of people like Mike Madigan, his associates, and others to become the way we do business in the State of Illinois, and unfortunately, the 'Madigan Way' is still the way in which our government works here in Springfield. It has to stop now," said Rep. Spain.
"Nothing has changed since Madigan's indictment to prevent this type of behavior and nothing will change until the majority party gets serious about ending corruption and reforming the Madigan Rules which govern the House of Representatives.
"Emanuel "Chris" Welch is now Madigan's handpicked successor as Speaker of the Illinois House. Lisa Hernandez is now Chairperson of the Democratic Party of Illinois. It's time to throw out the Madigan playbook, pass robust ethics reform measures, and give Illinoisans an honest state government they can believe in."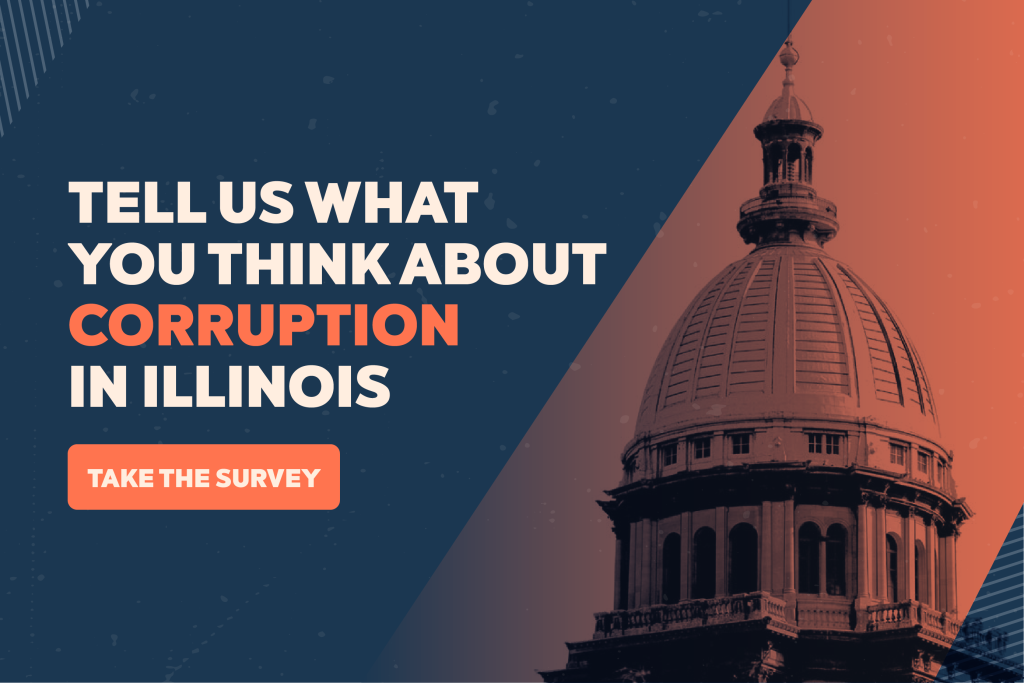 Eliminating the culture of corruption in Illinois. Illinois House Republicans are calling on the Democratic supermajority to join our efforts in eliminating the culture of corruption plaguing the state of Illinois. And to make ethics reform a priority as we head into the final weeks of session.
The legislature needs to take bold steps to weed out the underlying causes of corruption in state government by:
Allowing for greater transparency in the budget-making and lawmaking processes.
Changing the "Rules" set up by Mike Madigan (and that are still used today) that gives a handful of lawmakers the power to decide which bills get a hearing, including ethics bills.
Enacting stronger laws that prohibit lawmakers from serving as lobbyists, grant greater authority to the Legislative Inspector General, and enact Fair Maps to let voters select their elected officials.
We'd like to hear from you. Should ethics reform be a priority? How can we restore your confidence in state government? Please take our survey to let us know what you think about the need for ethics reform in Illinois.
BUDGET
Revenue numbers for April show sharp decline in State revenues. Tax receipts for the month, which saw the final submission of many 2022 income tax returns, dropped $1.84 billion below year-earlier numbers. While a decline had been projected, this shortfall was dramatically higher than the projections. Personal Income Taxes paid to the Illinois Department of Revenue (IDOR), which includes income tax payments from individuals, trusts, estates, and pass-through entities, fell $1.76 billion below the receipts paid to IDOR in April 2022.
The sharp decline in April 2023 revenue will have a chilling effect on overall revenue numbers during the remainder of FY23 and into FY24. The trends in Illinois economic activity that led to this payment gap cannot be expected to go away. Based on these April numbers, the nonpartisan Commission on Government Forecasting and Accountability (CGFA) has reduced its projection of the State's FY23 tax-fueled general funds cash flows by $728 million.
CGFA has also been compelled to adjust its numbers for FY24. After reallocations of certain categories of cash flows, the FY24 numbers – like the FY23 numbers – are now in precarious balance. The State expects to bring in barely enough money to meet its existing spending commitments for FY24, the fiscal year that will start on July 1, 2023. Unfortunately, many spending items within the State's budget are rising fast. New issues are demanding attention. CGFA's numbers and revenue projections mean that there is now no new net State money to meet these demands for additional State spending. House Republicans will redouble their efforts to help the State get control over its massive, momentum-driven need to continually spend money the State does not have.
Expected cost for Illinois' noncitizen health care program grows to $1.1 billion. New estimate represents 400% increase from Pritzker's February budget estimate. The estimated cost for Illinois to continue providing health care coverage to noncitizens who are otherwise ineligible for Medicaid benefits has been revised upward to $1.1 billion for the upcoming fiscal year.
As of the end of March, the Illinois Department of Healthcare and Family Services estimated it would cost $990 million to fund the program that provides state-funded health care to individuals age 42 and older who would otherwise qualify for Medicaid if not for their citizenship status.
The new estimate, shared by IDHFS Director Theresa Eagleson in testimony to a Senate appropriations committee Wednesday night, is now $880 million beyond the $220 million estimate included in Gov. JB Pritzker's February budget proposal.
The administration also estimated the current-year expenditures for the program at $220 million, but it has cost over $400 million thus far with two months to go in the fiscal year.
IDHFS chief of staff Ben Winick told the committee that the original estimate relied on the Census Bureau's American Community Survey data to estimate the eligible population, then assumed a certain percentage would enroll.
But both the cost of providing care and the number of enrollees have far outpaced estimates. […]
The projections are now based on the program's current month-over-month growth rate of roughly 10 percent. The number of enrollees is expected to grow to over 120,000 in Fiscal Year 2024. The previous estimate was 98,500 enrollees. […]
The same Senate committee heard a proposal from Sen. Omar Aquino, D-Chicago, that would further expand Medicaid coverage to noncitizens age 19 and older. That would cost another $380 million, per IDHFS estimates.
Two weeks ago, Illinois House Republican leaders called for a moratorium on expansion and a State audit of Illinois' billion-dollar health benefits program for undocumented immigrants.
CHILDREN
Sustaining & Protecting At-Risk Kids working group presents proposals to fix DCFS. At the beginning of the 103rd General Assembly, House Republican Leader Tony McCombie established several working groups within the House Republican Caucus to develop legislation for the priorities of the caucus and the people of Illinois. On Thursday, State Representative Tom Weber and his colleagues provided an update on the progress of the Sustaining & Protecting At-Risk Kids working group, which Weber leads.
"Protecting vulnerable children is not, and should not, be a partisan issue," said Weber. "Protecting them is our most basic responsibility as a state, and I've spoken with many legislators on both sides of the aisle who agree. That's why we are proposing House Bill 3471, the AJ Freund Act, to allow local law enforcement to conduct their own abuse or neglect investigations and require DCFS to share their investigation reports with local County State's Attorneys to play a more active role in prosecuting abusers. We are also proposing House Bill 3002 to create an independent Ombudsperson to investigate complaints against DCFS, provide recommendations for policy changes and report to law enforcement when necessary.
"We believe these proposals, and others can have a real impact on fixing DCFS and I hope they will be considered for a vote before the spring session ends."
Also at the press conference was State Rep. Steve Reick, who discussed additional proposals:
EDUCATION
Rep. Severin Leads House Literacy Working Group, Unveils Bold Legislative Package. State Representative Dave Severin was appointed to serve as the House Republican chairman of the Literacy Improves Future Endeavors Working Group by Illinois House Republican Leader Tony McCombie back in February of this year. Since that time, Rep. Severin and his House GOP colleagues have met several times to hear from educational advocates and interested stakeholders, taking testimony and building a comprehensive legislative package aimed at improving educational outcomes, advancing literacy, and addressing current teacher shortages that are harming students in Illinois public schools.
"Pandemic-era lockdowns have really harmed the development of our school children, especially our youngest students in the area of literacy proficiency," Severin said. "We've seen test scores dropping through the floor and too many students being left behind. The legislative package that I'm helping to sponsor takes direct aim at these learning gaps and tackles the tough issue of teacher shortages."
The members of the LIFE working group unveiled a sweeping legislative package that includes the following bills:
HB 4070 (Severin) – Requires ISBE to develop a comprehensive State literacy plan that includes, at a minimum, the following:
Developing class size goals for grade K-6 classrooms
Developing a comprehensive reading teacher content area test
Establishing a grant program for districts to hire reading and literacy specialists and coaches
Establishing a grant program for districts to provide bonuses to teachers that receive the reading teacher endorsement on their current license.
HB 4067 (Swanson) – Provide that professional development providers may offer opportunities on reading/literacy instruction.
HR 256 (Swanson) – Establishes May 7 through May 13 as "Read with Your Kids" Week referencing the Dolly Parton "Imagination Library."
HB 4069 (Friess) – Creates a Temporary Teacher Apprenticeship Program as an alternative pathway to licensure and establishes foreign language endorsements for those fluent in the foreign language to teach foreign language courses.
HB 4068 (Schmidt) – Extend the sunset date for additional return to service for retired teachers.
HB 1213 (Caulkins) – Creates a scholarship program for teachers to get master's degrees in order to increase dual credit courses.
HB 1297 (Elik) – TRS optional credit for private school teachers.
HB 4066 (Weaver) – Creates the Parent Advisory Committee within ISBE to study and make recommendations on proposed teaching and learning standards. Requires school boards to have a policy in place to allow parents/guardians to review curricula and learning material.
NATURAL DISASTERS
I-55 dust storm and deadly crashes. With high winds and dry weather, dirt and dust blew around central and southern Illinois last week. On the morning of Monday, May 2, driving visibility suddenly dropped to zero on a stretch of Interstate 55 near Farmersville, Illinois. A significant number of vehicular collisions, which included several Class 8 semi-trailer trucks, took place. Many motorists required medical care, including hospital care, and seven motorists were killed. The tragic incident was extensively covered on local and national television news programs as a weather disaster in Illinois.
In the wake of the tragedy, lengths of Interstate 55 were closed to traffic for extended periods. Also, the U.S. National Weather Service issued a "Blowing Dust" warning for wind-affected locations within Illinois. The warning spoke of "severely limited visibilities" caused by the weather conditions. Dust warnings have often been issued in the U.S. West and Southwest, especially in Arizona, New Mexico, and Texas; however, this was one of the first dust storm warnings issued by federal authorities in Illinois.
Flood crest rolls down the Mississippi River. The snowmelt-fed high waters, the runoff from heavy snows this past winter in Minnesota and Wisconsin, are moving down the Mississippi River toward the sea. Last Monday, this flood crest reached the Quad Cities.
Authorities have set up sandbag walls in many Illinois towns and cities. Illinois cities along the flooding zone include Quincy, with the crest expected on Friday, May 5, and in Alton, with a similar event expected on Sunday, May 7. Based on current water patterns, south of Alton the riverbed becomes wide and deep enough to handle the added water without excessive flood activity. A once-in-a-lifetime flood, such as the Great Flood of 1993, can cause extensive danger to the riverbanks south of St. Louis.
In Illinois, flood responses are headed by the Illinois Emergency Management Agency (IEMA), the state agency for disaster preparedness and mitigation.