Every resident in Chicago metro area pays $2,321 annual "tort tax" to fund lawsuit abuse in Illinois, new report states
Lawsuit abuse continues to grow in Chicago and surrounding counties with every resident now paying a $2,321 annual "tort tax" to cover the loss in jobs and economic output, according to a new study released today by Citizens Against Lawsuit Abuse.
Illinois CALA's Executive Director Phil Melin presented the findings of the Perryman Group report at a meeting with State Representatives Dan Ugaste of Geneva and Jeff Keicher of Sycamore and small business owners in Kane County this morning.
"It is important for Illinois to have a strong civil justice system where injured parties can seek redress, but the Illinois Legislature routinely tips the scales of justice in favor of the trial attorney lobby and against the small businesses and entrepreneurs who drive our economy and create a majority of our jobs," Melin said. "This imbalance results in excessive and abusive tort litigation resulting in a tremendous cost to each citizen of Illinois in terms of direct costs, gross domestic product, government revenue, and job loss."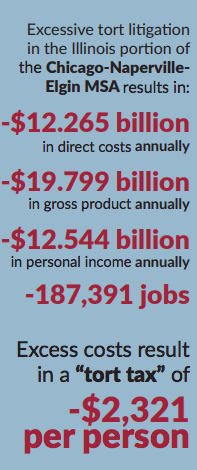 Reports highlights find that in 2022 excessive tort litigation:
Lost $21.4 Billion in gross product in Illinois and $21.4 Billion in the Chicago MSA region (Counties of Cook, DeKalb, DuPage, Grundy, Kane, Kendall, Lake, McHenry and Will)
Cost 202,563 jobs in Illinois and 187,391 jobs in the Chicago MSA
Cost state and local governments more than $2 Million in lost revenue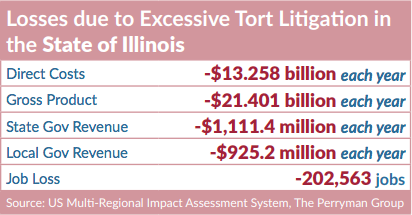 Recent Legislative Session Devastating for Small Business Job Creators
"While there are some Illinois legislators like Representatives Jeff Keicher and Dan Ugaste who routinely fight to balance the scales of justice for our local small businesses, Springfield is currently dominated by the big money trial attorney lobby that never misses an opportunity to extract more of Illinois' potential economic growth for itself," Melin said.
The recently concluded spring legislative session was devastating for Illinois businesses because:
"The actions of the Illinois General Assembly and State Senate will surely harm the Illinois and local economies in 2023. We anticipate that tort abuse in Illinois will continue to hinder economic growth and cost jobs in a major way until state legislators balance the scales of justice with reasonable reform measures," Melin concluded.
Reps. Ugaste and Keicher Earn CALA-IL's Small Business Champion Award
At Thursday's event, CALA-IL also recognized both Representatives Keicher and Ugaste with its "Small Businesses Champion" award.
Representative Dan Ugaste
"As the Minority Spokesman for the Judiciary-Civil Committee, Representative Dan Ugaste has strongly advocated for Illinois small businesses. Rep. Ugaste introduced several important tort reform bills this year, and job creators are fortunate to have their voice represented by him in Springfield," Melin said.
Rep. Ugaste accepted the award and said, "We must not take for granted all the hard-working men and women who put everything they have into creating and building their small businesses. I'll continue to work in Springfield to ensure that their voices are represented and that we are pushing for reasonable reforms to balance the scales of our civil justice system in Illinois."
Representative Jeff Keicher
"As a small businessman, Representative Jeff Keicher understands the challenges of creating jobs. This year, his leadership on critical tort reform measures like BIPA reform earned him CALA-IL's Small Business Champion award," Melin said.
In accepting the award, Rep. Keicher said, "Money doesn't grow on trees, and the Illinois Legislature must remember that our economy is built on the backs of small businesses. Our civil justice system is out of whack, and we need more legislators to join us in standing up for the job creators."