UNEMPLOYMENT FRAUD
Audit finds Illinois paid out $5.2 billion in fraudulent or excessive unemployment "overpayments" during COVID-19.  An audit report released last week by the Illinois Auditor General revealed that the State of Illinois paid out more than $5.2 billion in fraudulent or excessive unemployment claims during the COVID-19 pandemic, including $46 million in payments to incarcerated or deceased persons.
The Illinois Auditor General on Wednesday published a report that showed how the state agency that distributes unemployment benefits issued "overpayments" to the tune of $5.2 billion in fraudulent or excessive claims from fiscal year 2020 to fiscal year 2022. The report is the fullest accounting yet of the large-scale fraud and overpayments that occurred in Illinois during the pandemic.
Of the $5.2 billion, the Illinois Department of Employment Security (IDES) overpaid by about $2 billion for regular unemployment insurance and by $3.2 billion for federal Pandemic Unemployment Assistance (PUA) put in place following the outbreak of COVID.
Overall, $2.8 billion has been classified as identity theft – money not considered recoverable since it can't be collected from the identity theft victim. According to the audit, only about a 10th of the total $5.2 billion has been recovered.
Unemployment surged in Illinois, as it did in the rest of the country, at the beginning of the pandemic in 2020 after Gov. J.B. Pritzker issued stay-at-home orders in an effort to slow the spread of the virus. Businesses were forced to cut back their operations, if not shut down, leaving many Illinois residents out of work and creating an unprecedented level of demand for unemployment insurance.
"IDES was not prepared to respond to the needs created by the pandemic," the report states. "IDES did not have a plan for responding to recessions and potential surges in claims."
House Republicans respond to report of massive IDES failures.  Republicans repeatedly called for reforms at the Illinois Department of Employment Security (IDES), even offering ideas for solutions, in our attempt to fight for hardworking constituents trying to navigate a broken system… but instead, we were repeatedly shut out by the Pritzker Administration.
IDES should never have allowed this scope of fraudulent activity to occur, yet it went on for years. The audit shows the expensive price tag of the mismanagement and failures of the Pritzker Administration.
Throughout the COVID-19 pandemic and economic shutdown, Illinoisans struggled to make contact with anyone at IDES to assist them with legitimate unemployment claims. IDES offices were closed throughout the state, concerned citizens could not get anyone on the phone, and the IDES online claims process was a complete disaster. Hardworking families put on the unemployment line by Governor Pritzker's shutdown had to wait months to even begin their unemployment claims.
This is just one example of Governor Pritzker's failure to manage state agencies, something that taxpayers will repeatedly pay the price for.
"Taxpayers have over $5 billion reasons to never trust wasteful Democrats with their money again," said House Republican Leader Tony McCombie. "We have pushed over and over for an accounting of their known mismanagement, and now Illinoisans know the growing cost of Democrats' go-it-alone approach. The House Republican caucus continues to demand accountability and oversight with taxpayer dollars."
State Representative Jeff Keicher released the following statement in response.
"Amid the Covid crisis, residents across Illinois were receiving notices from former and current employers, or from unfamiliar names, asserting they had been dismissed from their jobs and were now eligible for unemployment benefits. The signs were rampant that we had fraud galore within the unemployment system, yet we had zero response from the Governor's Administration to address this fraud.
"We in the legislature sought initial numbers from the Administration and IDES to address the spiraling fraud. However, we were rejected at every turn and now we know why. The Auditor General report released yesterday clearly shows that more than $5 billion in overpayments, rife with fraud, were paid through the unemployment system because of a complete failure to operate the system appropriately. The net result of that has been additional taxation on every single job in Illinois to close both the deficit created and to pay into a new pool of unemployment insurance.
"Unemployment insurance is one of the most important safety nets that we establish for workers. To have such a callous disregard for protecting the resources that protect our workers when they are laid off is beyond the pale. I have mentioned multiple times over the past three years to both the Governor and other members of his Administration that this needs to be addressed. To date, we are still waiting for a response and a plan to improve the situation going forward.
"I am utterly dismayed by this ongoing level of negligence. Going forward, I will continue to call for change and seek reform to ensure the responsible use of resources to minimize the burden that failures like this place on taxpayers and families in Illinois."
State Representative Dan Ugaste, Republican Spokesperson for the House Labor & Commerce Committee, stated the following:
"We owe taxpayers answers, we owe business answers, we owe everybody answers. And more importantly, we need to figure out exactly what went wrong, how to fix it, and make sure it gets done the right way so it doesn't happen again."
State Representative Amy Elik, a Certified Public Accountant and auditor, serves as the Deputy Budgeteer for the House Republican Caucus.
"The Pritzker administration ignored early warnings about security issues at IDES, as well as calls from the public and lawmakers to fix the problems within our state's unemployment system. Failure to address these issues has cost Illinoisans dearly.
"Those funds should have been used to help those in need during the pandemic, but instead they were paid out to fraudsters, incarcerated people, and even deceased individuals.
"The people of Illinois deserve better. It's time to get our state in order and give our citizens an effective and efficient state government today."
JOBS
Lion Electric plant to build EV school buses opens in Will County.  The new plant, owned by Lion Electric, will assemble the chassis, body, and shell portions of a set of vehicles that are expected to be used as electric-powered school buses. When in full operation, the plant will support up to 1,400 Illinois jobs. The assembly plant is located in Channahon, near Joliet in the Des Plaines River valley. The 900,000 sq-ft assembly plant is designed to produce up to 20,000 vehicles a year. 
Potential demand for EV school buses is rising rapidly, paced by federal school aid programs that will encourage school districts to consider purchasing EV-powered transportation. In its current configuration, the lithium-ion battery-powered Lion Electric school bus will be more suitable for relatively short runs, including bus runs used to shuttle students with personalized education plans to and from individual locations. The Lion Electric chassis can be used for either truck or bus purposes.
NATURAL DISASTERS
Illinois derecho storm system spurs expanded State disaster proclamation.  The derecho weather front that passed through Illinois late on Thursday, June 29, caused property damage and power outages throughout many regions of the state. A severe windstorm, widespread air bursts, and numerous tornadoes (https://www.wgem.com/2023/07/24/pritzkers-disaster-proclamation-derecho-expands-more-counties/) affected many parts of Central Illinois.
Last week, the State disaster proclamation that covered this storm and its aftereffects was expanded to include four separate days – June 29, June 30, July 1, and July 2 – and 21 counties in Central Illinois. Highly populated counties and cities in the amended disaster proclamation include Macon/Decatur, McDonough/Macomb, Sangamon/Springfield, and Vermilion/Danville. Many other counties surrounding these metro areas are also included in the expanded proclamation. Under the amended proclamation, residents of these 21 counties can apply for relief and seek public-sector aid in the recovery process.
STATE GOVERNMENT
Watchdog report indicates massive failure of maintenance in Illinois' prison system.  The Illinois Department of Corrections (IDOC) operates 27 correctional facilities throughout the state. Ranging up to maximum security, these facilities house persons convicted of serious felony offenses.
WBEZ has obtained a copy of a report, heretofore not made public, in which a consultancy was asked to survey IDOC's physical infrastructure and report to the Department's top management. The report appears to indicate a crisis at three Illinois prison facilities, with serious challenges at many others. Mold, leaky roofs, sewage backups, and unsafe drinking water are among the reasons why IDOC senior personnel have been forced to juggle prisoners from facility to facility. In at least one recent incident, guards had to carry out the unplanned transfer of "dozens of prisoners" out of a ward in the Pontiac Correctional Center after the heat and hot water ceased to operate. The emergency operation was carried out on a cold February night.
The report indicates that the dire infrastructure conditions currently seen at the Department of Corrections were exacerbated by a decades-long pattern of physical underspending and deferred maintenance. The report indicates that up to $2.5 billion could soon be required to patch up the aging prison facilities discussed in the report.
NATIONAL MONUMENTS
America's newest national monument includes an Illinois site.  The new Emmett Till and Mamie Till-Mobley National Monument contains three sites in Illinois and Mississippi to commemorate the life of Emmett Till, and the life and crusade of Emmett's mother, Mamie Till-Mobley. After his lynching in 1955, Emmett Till's bereaved mother Mamie Till-Mobley became a civil rights activist. Speaking nationwide for the NAACP and other groups, she was a major figure in U.S. civil rights. She and Emmett were the posthumous recipients of a Congressional Gold Medal in 2022.  
The three-site National Monument, created by presidential proclamation on Tuesday, July 25, includes the Roberts Temple Church of God in Christ in Bronzeville, Chicago. Located at 4021 South State Street, the Church is where many African Americans gathered in 1955 to remember Emmett Till and observe the return of his remains from Mississippi. The Rev. Wheeler Parker Jr., Till's cousin and close friend, is a survivor who witnessed Emmett's abduction prior to his lynching and participated in the presentation of the White House's National Monument proclamation event.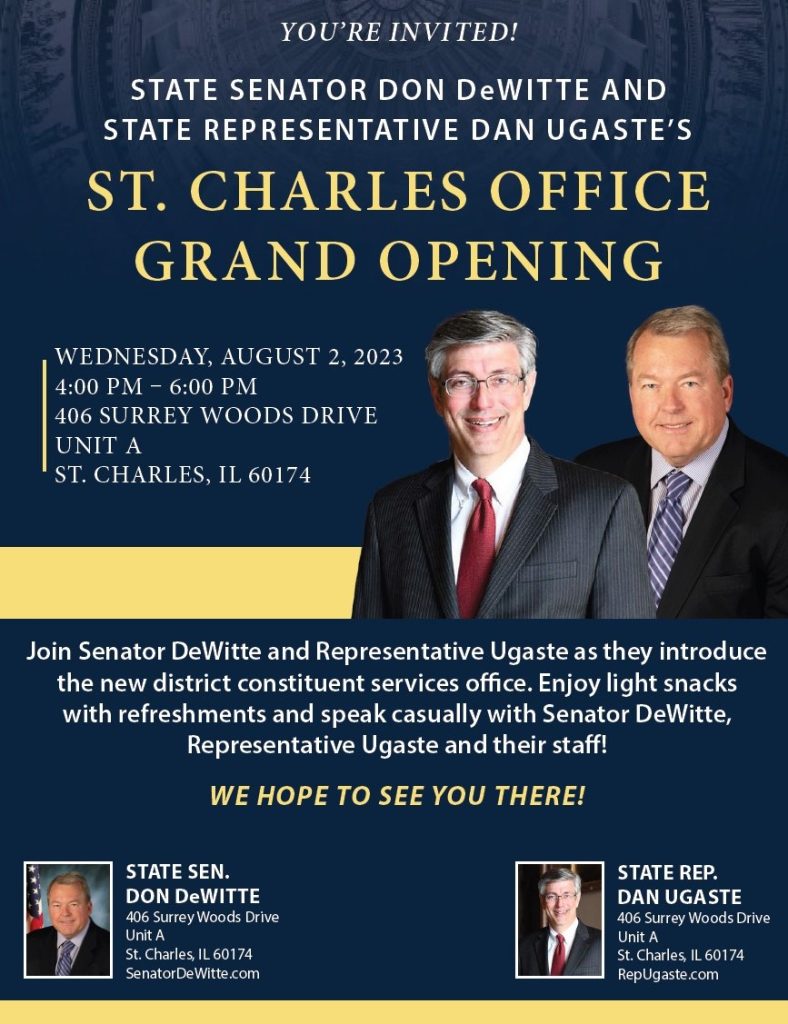 OPEN HOUSE
On Wednesday, I'm hosting an Open House at my new district office with Senator Don DeWitte! Join us on Wednesday, August 2nd at our new district office at 406 Surrey Woods Drive, Unit A, in St. Charles for refreshments and conversation! More information online here.