On September 11th, New York State National Guardsman Kevin Mroczkowski was living near Newburgh, New York. In 12 hours, he joined 8,000 other National Guard soldiers at Ground Zero. He first deployed to the National Guard's armory on Staten Island and bunked there for two weeks while taking ferries to Ground Zero to provide military protection.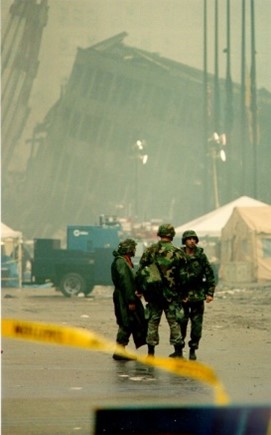 Mroczkowski was initially tasked with preventing the public from entering the "frozen zone," where it was feared numerous buildings could collapse at any moment. Then, he helped safeguard the Williamsburg Bridge as troops were sent to protect vital infrastructure in New York.
One year after the attacks, he was doing Guard duty at Penn Station. Despite trudging through four inches of ash at the site, Mroczkowski polished his boots every day to pass the morning company formation inspection.
New York Governor George Pataki awarded Mroczkowski with a Defense of Liberty Medal on September 8th, 2002. He passed away on July 3rd, 2019 after his battle with cancer.
Image from the New York City Department of Military and Naval Affairs