On September 11th, 2001, Kathy Dillaber and her sister Patty Mickley met in the center court of the Pentagon at their catch-up spot. They talked about the hijacked planes flown into the Twin Towers. Kathy told Patty to carry her purse with her just in case they were instructed to leave the building. After they met, Kathy returned to her desk to pick up paperwork, then heard a loud noise of Flight 77 crashing into the Pentagon. Noticing debris raining down, she fell to the ground and covered her face. She remembered thinking, "I've got to find Patty, something isn't right."
She was then instructed to evacuate, and reported to others that her sister was a smaller version of her and wearing a red dress. She waited outside the Pentagon to find her sister, then seeing her coworkers evacuating, she thought she was safe then went home.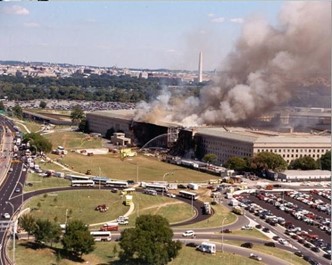 Kathy maintained hope that her sister had survived, then returned to work so she could save time off to take care of her sister, whom she assumed was injured and would need someone to take care of her. She received a call at her desk from her brother-in-law that Patty was identified as a victim of the attack on the Pentagon. Kathy described the days following as a long journey for her and her family.
Image from the 9/11 Memorial & Museum