Like much of the Midwest, Illinois is known for its prairies and flatlands. This horizontal topography leads to amazing natural sites like a 90-acre habitat for bison and elk. But is it all flat? Are there mountains in Illinois?
Believe it or not, The Prairie State has plenty of elevated adventures. From cozy ski resorts to hiking trails, Illinois is home to exciting activities that let you look down over the great outdoors.
Fox River Trail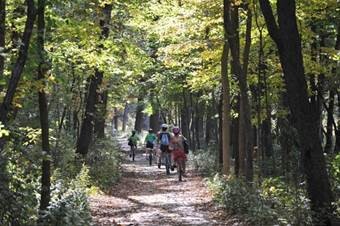 Stretching more than 40 miles from Algonquin to Aurora, the Fox River Trail offers a plethora of outdoor activities for all seasons. With an elevation of 738 feet, Fox River Trail has something for everyone.
Cross-country skiing, biking, and hiking are the name of the game at this Illinois high point, and you can design your experience to your liking. The connected network of trails includes Virgil Gilman Trail, Waubonsie Creek Trail, and Fox River Trail East and West.
Chestnut Mountain Resort
For a fun resort getaway, look no further than Chestnut Mountain Resort in Galena. Whether you're looking to soak up the last bits of winter with a ski trip or planning ahead for a river cruise this summer, Chestnut Mountain Resort has an activity for you.
Hit the slopes with a 475-foot vertical drop and chairs and lifts that get you from the bottom to the top in just minutes. Consider yourself a bit of a beginner on skis? Not to worry — Chestnut Mountain Resorts has instructors on hand to help you learn the basics so you can enjoy your experience.
Planning a summertime getaway? Head down the Mississippi River on a River Cruise to view beautiful Illinois foliage, wildlife, and other geographical curiosities. Learn about Illinois' history while enjoying a relaxing trek down the river.
Starved Rock State Park
Located in central Illinois, Starved Rock State Park offers hiking trails year round for every type of adventurer. Starved Rock has an elevation of 548 feet, and offers opportunities for ice climbing and winter hiking that provide incredible views of frozen waterfalls and scenic overlooks, as well as summertime treks that allow you to see lush greenery.
If you're planning an ice climbing adventure, check out the canyons at Starved Rock; four are available for ice climbing and offer an experience unlike any other. Summertime adventurers can take advantage of the fourteen waterfalls that are best seen once the ice starts to melt.
Garden of the Gods
There are few views in Illinois as spectacular as those from atop this rock formation in Shawnee National Forest. Formed over millions of years, the garden of sandstone sculptures and scenic bluffs looks down over an expansive vista of the trees below. Some bluffs have a drop-off of more than 100 feet! To visit, make your way to Observation Trail off Highway 34 in Shawnee National Forest.